The Electric War: Edison, Tesla, Westinghouse, and the Race to Light the World (Compact Disc)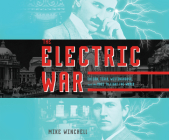 $39.99
Email or call for price.
Description
---
In the mid- to late-nineteenth century, a burgeoning science called electricity promised to shine new light on a rousing nation. Inventive and ambitious minds were hard at work. Soon that spark was fanned, and a fiery war was under way to be the first to light' and run' the world with electricity. Thomas Alva Edison, the inventor of direct current (DC), engaged in a brutal battle with Nikola Tesla and George Westinghouse, the inventors of alternating current (AC). There would be no ties in this race' only a winner and a loser' and the prize was a nationwide monopoly in electric current. Brimming with action, suspense, and rich historical information, this rousing account reveals the true story behind one of the world' 's defining scientific competitions.