Haven, the House Who Got Homesick (Hardcover)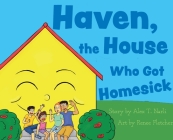 $21.98
Usually Ships in 1-5 Days
Description
---
Have you ever heard
of a homesick house?
No? Well, neither had one family until they went on vacation and left their house "Haven," behind.
You'd never guess what a homesick house might do when it starts feeling lonesome and begins to miss it's family
This playful tale opens the imagination as Author
Alex T. Narli brings a lonley house to life alongside colorful Illustrations which are sure to engage any child's sense of curiousity as we're reminded there
really is "no place like home."