An Uncommon Woman (MP3 CD)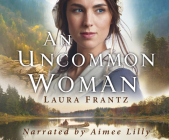 $24.99
Email or call for price.
Description
---
Unflinching and plainspoken, Tessa Swan is not your typical eighteenth-century woman. Born and bred on the western Virginia frontier along with her five brothers, she is a force to be reckoned with. Quiet and courageous, Clay Tygart is not your typical eighteenth-century man. Raised by Lenape Indians, he returns a hero from the French and Indian War to the fort that bears his name, bringing with him Tessa's long-lost friend, Keturah, a redeemed Indian captive like himself. Determined to avoid any romantic entanglements as fort commander, Clay remains aloof whenever he encounters the lovely Tessa. But when she is taken captive by the tribe Clay left, his hand--and heart--are forced, leading to one very private and one very public reckoning. Intense, evocative, and laced with intricate historical details that bring the past to life, An Uncommon Woman will transport you to the picturesque and dangerous western Virginia mountains of 1770.