The Tea Shoppe Mysteries: 4 Mysterious Deaths Steep in Coastal Maine (CD-Audio)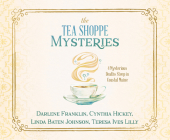 Description
---
4 Mysterious Deaths Steep in Coastal Maine.  4 Short Stories in one audio book featuring authors of numerous Cozy Mystery Novels.

A tea shoppe along the coast of Maine is connected to a year's worth of mysterious deaths.  Starting one winter day Georgina finds the mayor poisoned by a plate of petite fours.  That spring, Evie's favorite customer and recipe tester is killed.  While out delivering scones for her summer job, Ashley discovers a crime scene to practice her student training in forensics.  Against a backdrop of vibrant fall foliage, Ladessa discovers a corpse at table number four.  How can one small shoppe's employees be connected to so many deaths, and will the business ever recover?
About the Author
---
Award-winning author and speaker Darlene Franklin recently returned to cowboy country - Oklahoma.

Cynthia Hickey has the combined total of seven children and five grandchildren that she and her husband enjoy having near them in Arizona.

Linda Baten Johnson is a native of Texas, who writes historical fiction for young readers and squeaky-clean romances.

Teresa Ives Lilly lives in Texas and has been following a passion for writing for over twenty years.