The Adversary: The Christian Versus Demon Activity (CD-Audio)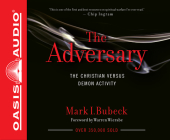 $24.99
Email or call for price
Description
---
Spiritual warfare is real, and we are all involved whether we like it or not.
The Bible plainly tells us that Satan schemes against humanity and that he wants to devour us. Daily we struggle against Satan's strategies and  desire to take over God's kingdom. This battle will not go away, and ignoring it could be disastrous.
But don't be afraid. The victory is already won by Christ. No enemy is powerful enough to overcome the risen savior. In these pages, Mark Bubeck exposes the reality of the conflict and the hope believers have. He answers such questions as:
What is Satan's strategy in spiritual warfare?
Can a Christian be oppressed by demons?
Can demonic affliction be passed down through family lines?
What are the symptoms of demonic activity in a person's life?
Having sold more than 350,000 copies worldwide, this bestseller will help the reader triumph in the battle against demonic activity by relying on the almighty and powerful Son of God.
About the Author
---
MARK BUBECK is the founder and president emeritus of ICBC, Inc., now Deeper Walk International. He graduated from Moody Bible Institute and received his D.Min. degree from Talbot Theological Seminary and a diploma in Theology from Denver Conservative Baptist Seminary.

A pastor for more than 40 years, Dr. Bubeck is author of The Adversary, Overcoming the Adversary, The Rise of Fallen Angels, and Raising Lambs Among Wolves, now updated and re-published as The Adversary at Home.

He lives in Sun City, Arizona.