A Guinea Pig Pride & Prejudice (Guinea Pig Classics) (Hardcover)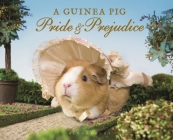 $14.00
Email or call for price.
Description
---
It is a truth universally acknowledged, that a single guinea pig in possession of a good fortune must be in want of a wife.

It is a truth personally acknowledged by Mrs. Bennet that all five of her furry daughters--Jane, Elizabeth, Mary, Kitty, and Lydia--are in need of husbands.

To her mother's grave disappointment, Elizabeth Bennet is headstrong and won't take just anyone, especially not the haughty Mr. Darcy.* Elizabeth blames the arrogant gentleman for steering Mr. Bingley, one of the rare men in possession of a good fortune, away from her older sister Jane. But when boy-crazy Kitty and Lydia fall in with the wrong crowd, it is Darcy who saves the day--and the Bennet family honor--and wins Elizabeth's tiny, rapidly beating rodent heart.

This delightful retelling of Pride and Prejudice is illustrated throughout with full color photos of the finest guinea pig actors working today. Costumers familiar with the elegant curves of the guinea pig form have tailored lush period looks. And of course, it is the love between guinea pigs that can best illustrate the depth of feeling between Jane Austen's Elizabeth and Mr. Darcy.

*The guinea pig playing Darcy struggled with looking supercilious, though rest assured, when carrots were removed from the elegant sets, the actor was able to still his nose long enough to look down it, and once he donned his summer-weight waistcoat, he made a fine and dashing Darcy.
About the Author
---
Jane Austen (1775-1817) was an English novelist whose works are among the most popular novels ever written. Her keen eye for social tension, and ear for taut, witty dialogue have delighted readers for centuries, while her novels have maintained historical importance through their analysis of the dependence of women on marriage to gain social standing and security. She has been widely adapted for both stage and screen, and continues to be among the most widely-read of late-18th-/early 19th-century writers.

Tess Newall is a set designer who specialises in fashion shoots and decorative painting. She carefully stitched and painted each tiny detail in A Guinea Pig Night Before Christmas, creating a small but perfectly formed vision of Christmas Eve in a guinea pigs's home.
Praise For…
---
"We thought Pride & Prejudice couldn't get much better--then we saw lines from Jane Austen's classic novel paired with some seriously dapper rodents." —EW.com

"This may be the definitive version of Pride and Prejudice. If they could get War and Peace down to this length, it would be a service to mankind." —Salman Rushdie

"As far as I'm concerned, it's the perfect combo: I love old literature and I have eaten a ton of rodents over the years. In fact, I've just had a desert mouse that I stewed in urine." —Bear Grylls

"An entirely new, adorably hilarious take on the classic story . . . This affection¬ate, quietly dramatic homage is the perfect gift for Austen-philes, Austen-newbies, guinea-pig aficionados and anyone who appreciates a tale well told." —BookPage