The World Beneath (MP3 CD)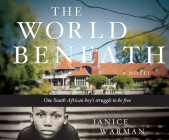 $29.99
Email or call for price.
Description
---
South Africa, 1976: Joshua lives with his mother in the maid's room located in the backyard of their wealthy white employers' house in a city by the sea. While he initially doesn't quite understand the anti-apartheid struggle going on around him, his rescue of a stranger and the riots that begin to sweep the country put him face-to-face with it. As he discovers the despair weighing down the world beneath him, he must make heartbreaking decisions that will change his life forever. In this genuine, quietly unflinching, and beautifully nuanced novel, a veteran journalist captures a child's-eye view of the struggle that shaped a nation and riveted the world.