You Matter to Me (Hardcover)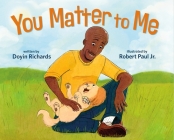 Description
---
In this picture book written by Doyin Richards and illustrated by Robert Paul Jr., You Matter to Me, a dog describes what it's like to go on walks with his Black owner and wishes that people would see his human as he does: with love.

Biscuit the dog is adopted from the shelter and loves his new home and his new human family. The dad, especially, takes good care of Biscuit and is the person who walks him the most.

But Biscuit soon realizes that not everyone shares his feelings about his human. His human is Black, and some people in the neighborhood are scared by that. Some people hold their purses closer, or tighten their grip on their children's hands.

With honest, age-appropriate storytelling, Doyin Richards starts a conversation about racism that is more important than ever. Here is a book that should be in every home, school, and library as a reminder that everyone matters.
About the Author
---
Doyin Richards is a father, husband, writer, consultant, and public speaker inspiring mothers and fathers to think, laugh, and learn while evolving as parents and couples. He is the author of the popular parenting blog Daddy Doin' Work, and the book, Daddy Doin' Work: Empowering Mothers to Evolve Fatherhood, and has appeared on nationally broadcast television shows including the Today show and Good Morning America. He lives in Los Angeles with his wife and their two daughters.

Robert Paul, Jr. is the illustrator of several picture books, including Simon B. Rhymin' by Dwayne Reed, and What Boys Do by Jon Lasser. Born in St. Lucia and raised in St. Thomas in the United States Virgin Islands, Robert's ultimate calling is to help children lead fun, positive, and enriched lives through storytelling. He lives with his wife and daughter in Houston, Texas.
Praise For…
---
"Taking on an extremely sensitive subject, this is an excellent first purchase that should be read aloud, and read often." —School Library Journal, starred review