Punderdome: A Card Game for Pun Lovers (Game)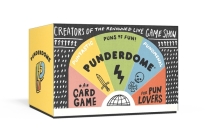 $20.00

Usually Ships in 1-5 Days
Description
---
From the daughter-father duo that created Brooklyn's beloved live pun competition, this "punderful card game" (Mashable) is perfect for friends and families.
 
• One part game, one part conversation starter, you don't need to be a pun master to master Punderdome: the goal is to make bad jokes and have fun along the way.

• The prompter for the round draws two prompt cards from the deck, then reads the prompts to the rest of the group. The other players have 90 seconds to combine the two prompts into a single, groan-worthy pun.     

• When time is up, pun makers share their puns with the prompter, who awards the prompt cards to the player with the best pun. The winner then draws the next pair of prompt cards and the process repeats.

• The first player to obtain 10 pairs of prompt cards wins the game.

• Easy to play and enjoy in person or over video chat!

Punderdome includes:
• 200 double-sided cards (100 White and 100 Green)
• 2 Mystery Envelopes with fill-in prize slips
• 2 80-page pads for drafting puns
• 1 instruction card and 1 pun example card
• A stu-PUN-dous time for 3 or more players
About the Author
---
JO and FRED FIRESTONE, a daughter-father duo, are the creators and hosts of Punderdome®, NYC's Most Puntastic Competition—part of New York's comedy landscape since 2011. 

JO FIRESTONE, named a "comic to watch" by Comedy Central, is a regular contributor to The Chris Gethard Show on Fusion TV. Her radio show, Dr. Gameshow, can be heard every Monday night on WFMU, a freeform New Jersey radio station. 
 
FRED FIRESTONE is a keynote speaker and workshop facilitator, who specializes in customer/client satisfaction, branding, and ethical selling, for corporations across the country. His clients include AT&T, Enterprise Rent-A-Car, and Hewlett-Packard. He enjoys impersonating Rodney Dangerfield.
Praise For…
---
Praise for Punderdome: A Card Game for Pun Lovers

"With the right mix of people you'll be rewarded (or punished, depending on your tolerance for puns) when the mix of "Beatles" and "diner" leads to people singing lines like "I want to hold your ham…" and "Sgt. Pepper's Lonely Hearts Club Sandwich..." the fusion of "dessert" and "fraternity" leads to suggesting college students with a sweet tooth rush Kappa Theta Apple Pie and avoid hazing-nut ice cream."—A.V. Club
 
"This punderful game will replace Cards Against Humanity at your next party." --Mashable 

"First, there was Apples to Apples, the game of absurd comparisons. Next, there was Cards Against Humanity, the R-rated Apples reboot for basics. And now, there's Punderdome, a card game created by Fred and Jo Firestone."—Brokelyn.
 
" [The] new Pun-Based Card Game Will Shuffle Your Boredom."—Mental Floss

"Now the world's best/worst pun contest has escaped Brooklyn's bars and is on the way to your home, courtesy of the Punderdome home game...Inside is everything anyone would ever need to turn their living room into the scene of a no-puns-barred cage match...The game is hilariously groan-inducing fun, and a good one to pull out for a party or night in with the family."—SUVUDU Gaming 
 
"This game is a witty way to get families to put cellphones, and other technology away for a bit and interact with each other face-to-face."—Cover Lovers Book Review

Praise for the Live Game Show, Punderdome 3000
 
"But for the contestants in a monthly pun competition at Littlefield, a performance space and bar in Brooklyn, forming puns is a spigot they can't turn off."—The New York Times
 
"(The PUNDERDOME®) was unabashed silliness that I longed to bottle and smuggle out in my purse."—The New Yorker
 
"The lowly pun has long been considered the bottom-feeding bristle worm of the comedy world…. That has changed with the arrival of Punderdome 3000, a now monthly event that has turned punning into a high-functioning competition that is equal parts stand-up, beat poetry …" -- The New York Post
 
"Father-daughter pair Fred and Jo Firestone have started a family together. To clarify: It's a figurative family, but indeed, 'family' is the right word; the Punderdomers are more loyal and tight-knit than just a 'community,' and have more inside jokes than your average 'clan.'" -- Bustle