Origami Paper 100 Sheets Tie-Dye Patterns 6 (15 CM): Tuttle Origami Paper: Double-Sided Origami Sheets Printed with 8 Different Designs (Instructions (Loose Leaf)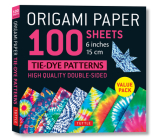 $6.99

Usually Ships in 1-5 Days
Description
---
This origami paper pack contains 100 high-quality origami papers printed with colorful tie-dye designs and patterns.
These exciting paper patterns were developed to enhance the creative work of origami artists and paper crafters. The pack contains 8 different designs unique to this pack, and all of the papers are printed with coordinating colors on the reverse to provide aesthetically pleasing origami models.
This origami kit includes:
100 sheets of high-quality origami paper
8 unique designs
Vibrant and bright colors
Double-sided color
6 x 6 inch (15cm) squares
Instructions for 8 easy origami projects
About the Author
---
Tuttle Studio draws inspiration from the modern and traditional cultures of Asia to create its language workbooks and resources, journals, stationery, gift wrapping products and origami paper. It is a division of Tuttle Publishing, a leading publisher of books on the languages, history, art and cultures of Asia. The company was founded in 1832 in Rutland, Vermont (USA) and opened a branch in Tokyo, Japan in 1948.