Camilla D'Errico's Hydie: A Pop Manga Jigsaw Puzzle: A 1,000-Piece Pop Surrealism Jigsaw Puzzle: Jigsaw Puzzles for Adults, Jigsaw Puzzles for Kids (Game)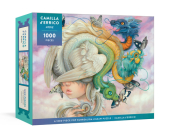 $19.99

Usually Ships in 1-5 Days
Description
---
Bring the whimsical wonderland of renowned manga and pop surrealism artist Camilla d'Errico to life with this 1,000-piece puzzle.
 
• Features d'Errico's fan favorite painting "Hydie" rendered in stunning color and detail.
• The intricate design will delight and challenge art lovers, manga enthusiasts, and experienced puzzlers alike.
• Sturdy puzzle pieces fit perfectly together, are virtually dust-free with minimal glare, and are designed for easy handling.
• Finished puzzle measures 20 x 27 inches, perfect to display as art or take apart and complete again for endless fun!
About the Author
---
Camilla d'Errico has gained wide acclaim for her illustrative work, including nominations for the Joe Shuster Award and the Will Eisner Award. She is the co-author of Pop Manga and the author of Pop Painting, Pop Manga Coloring Book, Pop Manga Mermaids and Other Sea Creatures, and Pop Manga Drawing. She has worked with Dark Horse Comics, Image Comics, Hasbro, Disney, Sanrio, and Neil Gaiman, and created her own cult-sensation properties Tanpopo and Helmetgirls. She is also well known for her melting rainbow, big-eyed girl oil paintings, which have made her a hit in the international Pop Surrealism movement.