A Teacher's Guide to Writing Workshop Minilessons: The Classroom Essentials Series (Paperback)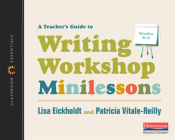 $36.00
Email or call for price.
Description
---
In writing workshop, the minilesson allows teachers to connect a lesson-often one that is mandated by a set of standards, a district curriculum, or a grade-level unit plan-to the specific objectives you have, as well as to the cultural knowledge and experiences of your students. Lisa Eickholdt and Patricia Vitale-Reilly explain the four-part structure of minilessons and share methodologies and tools, including charts, visuals, and materials that you can use to make your minilessons efficient and engaging for all students. With tips on inclusive practices, how to deliver minilessons in different instructional settings, and assessment, you'll have everything you need to get started with writing workshop minilessons.
About the Author
---
Lisa Eickholdt is a national consultant and former Assistant Professor of Literacy Education at Georgia Gwinnett College. Also a veteran teacher, Lisa is the author of the Heinemann title Learning from Classmates, and coauthor of A Teacher's Guide to Writing Workshop Minilessons (a Classroom Essentials book). Patricia Vitale-Reilly is a national consultant, teacher, and author with 25 years of experience in education. Early on it became clear that her passion was to collaborate with leaders in education to develop and achieve engaging and relevant instructional practices. Patty taught in both public and independent schools, as well as at the graduate level, in New York and New Jersey. Patty also worked as staff developer at the Teachers College Reading and Writing Project. In this capacity, she helped school communities implement exemplary literacy instruction, and presented workshops and courses on the teaching of reading, writing, assessment, and literacy in the content areas. In 2003, Patty founded her own literacy consulting group, and currently works directly with school leaders, coaches, teachers, and students inside and outside of classrooms. Patty is an author of Time for Kids teacher training materials and is a contributor to Write Time for Kids (TCM, 2000), co-author of The Complete Year in Reading and Writing Grade 2 (Scholastic, 2008), and the author of Engaging Every Learner and Supporting Struggling Learners. Her newest book, coauthored with Lisa Eickholdt, is A Teacher's Guide to Writing Workshop Minilessons (A Classroom Essentials book). As a national consultant, Patty is dedicated to guiding schools and districts to set and realize goals that matter most in their learning communities, and to her belief that every student has the right and the capacity to learn. Check out her blog exploring important and essential ideas about teaching and learning at http: //www.pattyvitale-reilly.com/blog.html. You can also find her on Twitter at @PattyVReilly.